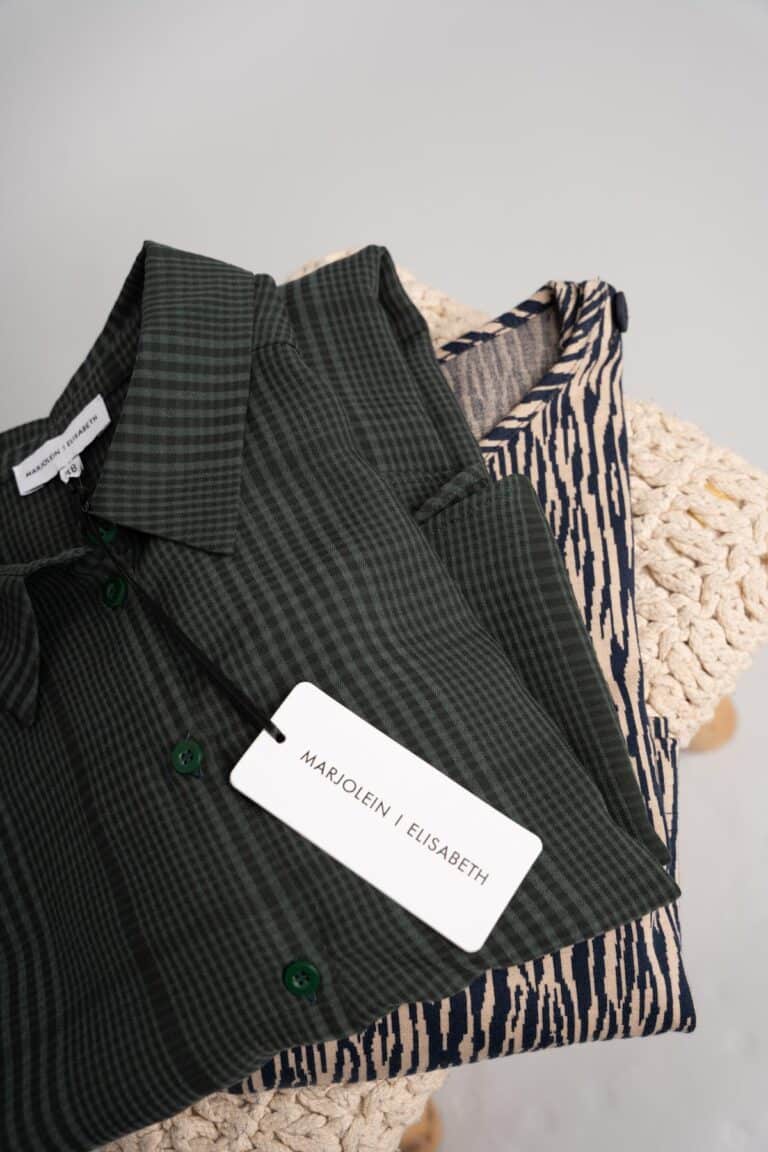 CONSCIOUS ME
At Marjolein Elisabeth we believe in conscious entrepeneurship. We believe that the world can be a better place when everybody is conscious about the way they live and contributes in his or her own way to a better environment.
The impact of the fashion industry on the environment and human rights is huge. As a small fashion brand we are not able to change the fast as we want. However, we can give a good example. We try to work as sustainable and fair as possible by keeping production close by so that transport is limited, employees of our atelier like their job and get paid well and we use of fabrics that are well produced and are long lasting. Also, we limit our stock and waste by making timeless basics. Only items that are running out go on sale. We keep improving every day, because, as a fashion label you are never done.
We work as human and environmentally friendly in our whole process, from design to production. Founder Marjolein makes use of the knowledge that she gained during her former career as a sustainability manager in a big organisation, before she started her brand Marjolein Elisabeth.
CONSCIOUS FASHION
❤︎ Production: for our collection we work with a workplace in The Netherlands and Bulgaria. They provide their workers fair labour-circumstances. Both ateliers follow EU guidelines in terms of environment and labour.
❤︎ Fabrics: As much as possible we use sustainable fabrics like organic cotton, EcoVero viscose and Tencel. All fabrics are at least OEKO-TEX 100 certified. We take much care on the selection of fabrics because our starting point is that our cloths are long lasting and can be worn for many years. Also, remains are used for sampling or transformed in limited editions. Read more about our sustainable fabrics.
❤︎ Packaging: we use as much as we can paper packaging which can be recycled after use. We also re-use packaging that we receive from returns if possible. The plastic bags our collection is shipped in from the workplace are reused every collection as well.
❤︎ Sale: our collection consists of timeless designs. Sale does actually not fit with that. Therefore we only mark down items when they are almost sold out. They stay in the outlet until they are sold out. We don't waste cloths. The fact that we produce limited editions makes the need for sale minimal. Besides, we offer our customers unique clothing.
❤︎ Slow fashion: we are not inspired by trends and fast fashion but by classic designs that we love. Our collections are known for timeless design, perfect fit and distinct colors and patterns. We challenge women to find their own stye independent of fashion-trends so that they make a conscious choice when they buy cloths and love them for a long time.
❤︎ Local cooperation: we try to work as much as we can with (small) local suppliers and partners and prefer a long term relationship build on trust.
❤︎ Low waste: for last pieces we work together with social initiatives. We donate clothing to Dress for succes and we cooperate with Share a Masterpiece, a rentalserviae for designer clothing.