Shipping is not free
That isn't new, is it?" you may think. Only the large webshops suggest otherwise. Sending back and forth for free is the most normal thing in the world and has now even become the standard. In fact, free shipping is a condition for many people to choose a webshop.
The point is that shipping for a webshop is not free. And for a small webshop, the costs are almost equal to what you pay for sending a package to the Post-NL counter. And then sending back and forth is a considerable cost item, if the purchase is returned entirely. Also the shipment of orders have a substantial environmental impact which we need to be aware off. As the owner of a sustainable webshop, I find this 'free shipping trend' difficult, for two main reasons:
Environmental impact. In addition to costs, shipping entails an environmental impact. And we want to keep that as small as possible, as we try to do throughout our entire process. Free shipping and returns ensure that a purchase is often returned. At the large webshops, more than 50% is returned. A lot right?
Service with love. As a webshop, we provide a service by the sending of an order. We pack the product with love and bring it to the postoffice. You don't have to leave the house and you can try your garment on at home. As a webshop we provide you with this service. I compare it to shopping at, for example, the Bijenkorf. If you go there and you do not succeed, you will not be reimbursed for your travel and parking costs.
For Marjolein Elisabeth we have deliberately chosen to pay for the shipping to our customer, but not the return shipping. And we keep it that way. Because we find the environmental and financial impact of free returns to big. We find it important that you think carefully about your purchase and only buy something because you really feel like wearing it, not just wanting to see it. That's what we stand for. We want to continue to set this good example here – even though we are small. Hopefully the large webshops will eventually follow so that 'conscious online shopping' will soon become the new trend instead of 'free online shopping'.
Marjolein
Founder Marjolein Elisabeth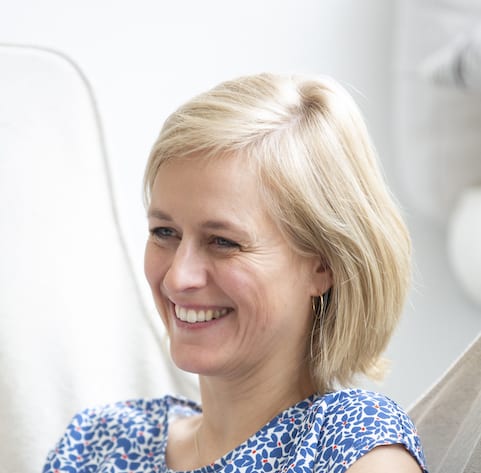 __
Marjolein Elisabeth is founded by Marjolein who formerly worked in a corporate environment as a sustainability advisor. Adding a sustainable aspect to her fashion brand was a natural condition for her. She believes in sincere and logical sustainability initiatives in organizations. Because these are real and permanent. Rather small and real than big and commercially conceived. Many small initiatives still make a big impact together.